Buying an Adult Condo or Senior Condo in Lethbridge
Get an evaluation of your Adult Condo. When people are retiring in Lethbridge, many are looking to buy an adult or senior condo in Lethbridge. There are many options for people 40plus and 50plus who want to own condos in Lethbridge. Many people enjoy the social aspect of the condos and the low-maintenance "pack up and go" lifestyle. Most apartment-style units do not allow pets, so if you want to make a move with a pet, be very careful where you buy. Interested in Adult condos, but not sure if you are ready to make the move? Register for a free tour here.
There are a few adult condos located along Scenic Drive:

River Ridge is located at 100 2nd ave South. It has a nice pool, and some of the units have great coulee views (built between 1997 and 2001). Units come with storage areas and underground parking. Condo units are available for people who are 40plus. There are no pets allowed. Between January 1st, 2021, and June 1, 2022, there were 16 sales in River Ridge, ranging from $145,000 for a 1 bedroom unit to $370,000 for a 4th floor unit. River Ridge is managed by HomeTime. Check out all the listings at River Ridge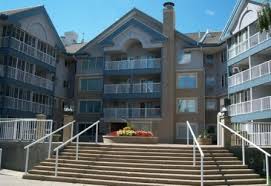 Rio Vista is located at 75, 1st Avenue South, and was built in 1994. The condo amenities include the library, craft room, exercise room, and a coffee stop in the library area. Rio Vista is an adult-only, well-managed condo with an active board and a healthy reserve fund. Pets are not allowed. Between January 1st, 2021, and June 1, 2022, there were 21 sales at Rio Vista, ranging from $184,500 for a 2 bed 2 bathroom unit, to bedroom unit to $365,000 for a 4th floor unit. Rio Vista is managed by HomeTime. Check out the listings currently available at Rio Vista.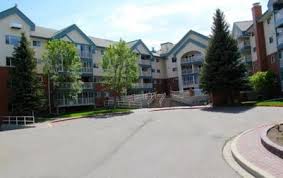 Grandview Village is an adult-only condo located at 20, 3rd Street South, which is very close to ParkPlace mall. It is one of the first adult condo buildings in Lethbridge, (built in 1993). These condos fees include almost everything (heat, electricity, maintenance, reserve fund) and they have underground parking. Between January 1st, 2021, and June 1, 2022, there were 21 sales at Grandview Village, ranging from $164,250 for a 674square foot unit, to $250,000 for two separate larger units over 1,400 square feet. Grandview Village is managed by Braemore Management. Check out the listings currently available at Grandview Village.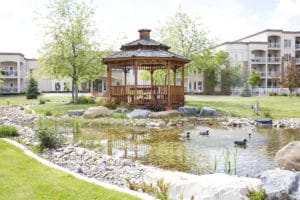 The Sierras, Lethbridge Adult Condo
Also on the south side in the Redwood area, is The Sierras, located at 2020, 32 st. south (just off of Mayor Magrath Drive). They have a nice indoor pool, a movie room, an exercise area, a coffee area, and pool tables. They do make some allowances for pets (they need to be small). Condo fees also cover almost everything, and they have heated underground parking as well. The Sierras is one of the newest adult condos and one of the few that have central air conditioning. This building has different phases, and they were built between 2002 and 2007. Between January 1st, 2021, and June 1, 2022, there were 22 sales at the Sierras, ranging from $155,000 for a 639 square foot unit, to $332,500 for a 4th-floor unit at 1370 square feet. The Sierras is managed by Hometime. The viewlethbridge.com office is just a couple of minutes walk away from the Sierras.
Check out all the listings available at the Sierras.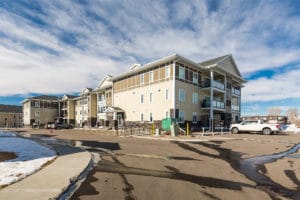 The Grand is a newer condo development by NewRock Developments on Fairmont Boulevard in South Lethbridge. It was built in approximately 2016 and has a total of 38 units. Unit sizes range from 1045 to 1289 square feet and include underground parking and additional storage lockers and a gym. Centrally located near many shops, services, transportation and major arteries. It's a very friendly community with regular get-togethers and social functions. Click here for all condos for sale at The Grand.
Most adult apartment condos (senior condos) will have guest rooms that you can book for a nominal fee if you have family or friends coming to visit.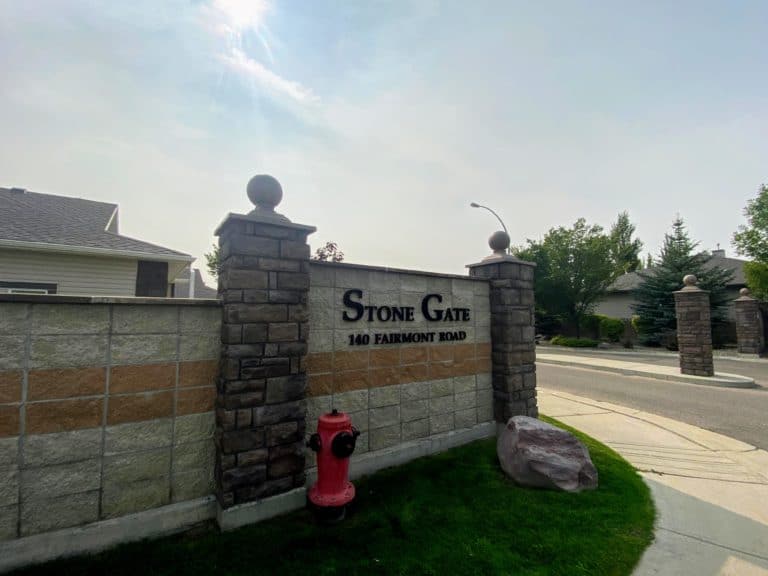 Stone Gate is a collection of 16 adult condos in Fairmont, at 140 Fairmont Road. They sell around the $400,000 mark, (depending on condition). These are in the 1/2 duplex style. As of June 2022, the last sale in this complex on MLS was in August of 2019.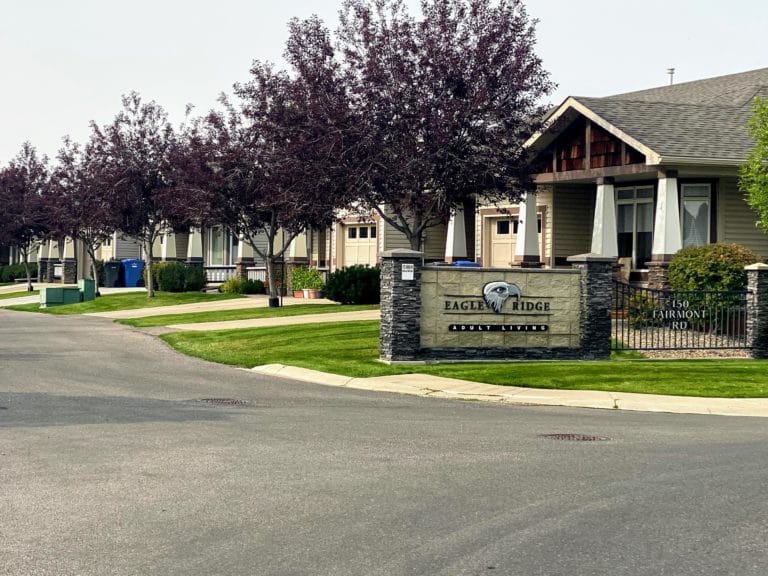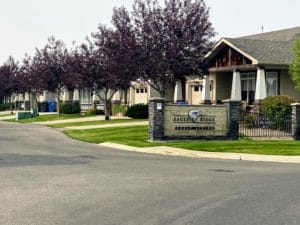 Eagle Ridge is a collection of adult condos in Lethbridge. (Right next to Stone Gate). On 150 Fairmont Road South Lethbridge. From January 1st 2021 until June of 2022, there have been 3 sales in this complex of 31 condos ranging from $340,000 to $363,000. These condos are close to shopping in South Lethbridge. and this is a 40-plus development, built in 2005.
Meals are included in the rental plans available at the View, (I had a meal there once and it was very good).
Waterton Village condos are located in West Lethbridge. These are nice 1/2 duplex condos, and they have attached garages. Pets are not allowed. They have a clubhouse, and it is located across from a park.
This is a 50-plus community. These 1/2 duplex bungalows have attached garages, and pets are not allowed. From January 1st 2021 until June of 2022, there have been 2 sales in this complex of 31 condos ranging from $257,500 to $264,500.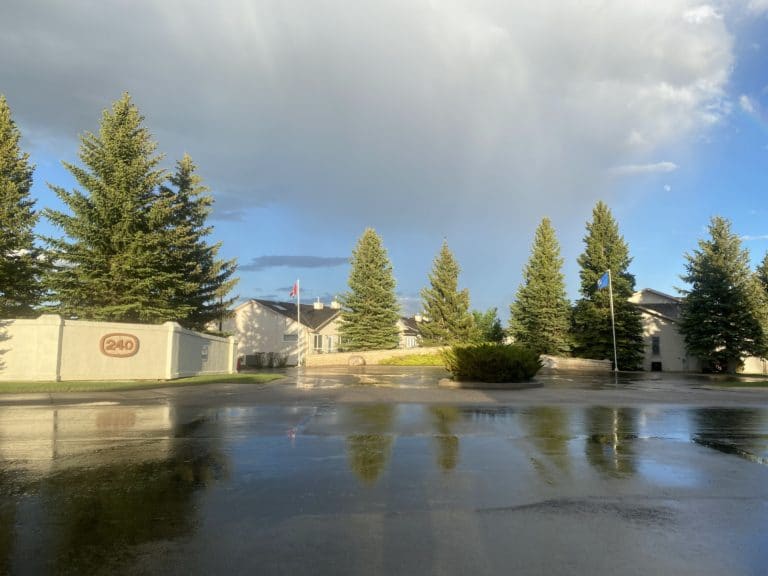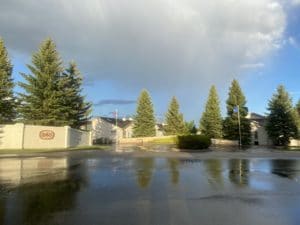 Heritage Villas – 240 Heritage Blvd West
Managed By: Hometime
These are spacious half-duplex walkout bungalow condos built between 1994 and 2002. Some of these units have some of the best views in the city, (views of the west side hill and the train bridge). Some units are in the middle, and some back onto a greenstrip as well. Ones with the coulee views are highly sought after. There are 41 units in this complex. Prices in 2021 ranged from $415,000 to $540,000, but in 2022, there is one listed for $599,000. Units in Building/Complex: 41 Check out available listings at Heritage Villas
This is a 40-plus community. It is managed by Hometime, 403-329-6111. It is very close to shopping on the west side. These are half-duplex condos, and triplex condos that have attached garages and basements.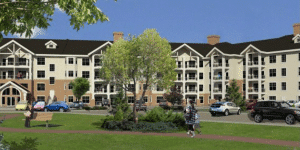 Village Green is a 40+ community with a clubhouse to entertain family & friends. All of the units feature a single attached garage and some of the units back onto Fairmont Lake. Condo fees include condo Amenities, Exterior Insurance, Exterior Maintenance, Garbage Removal, Landscape and Snow Removal, Parking, Professional Management, Recreation Facilities, and Reserve Fund Contributions

South Meadow Villa is a 55-plus community in Fairmont. It has bungalow-style units, with double and single attached garages and full basements. Some of the units are quite spacious at over 1300sq feet. This complex has 36 units, accepts small pets with board approval, is self-managed, and has low condo fees.

Fairmont Park Villas is a gated adult community. They feature double and single garages, with detached and semi-detached homes, some of which back onto the lake.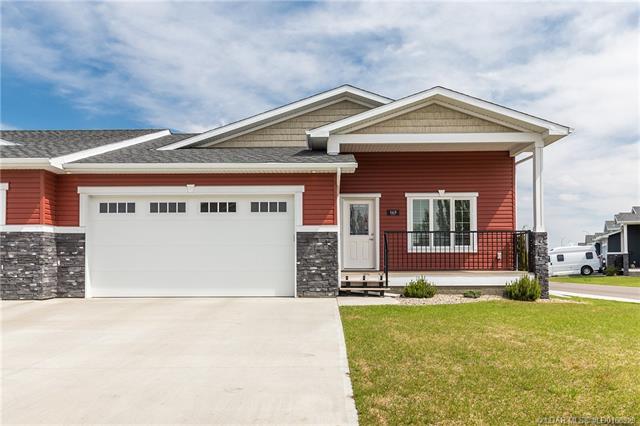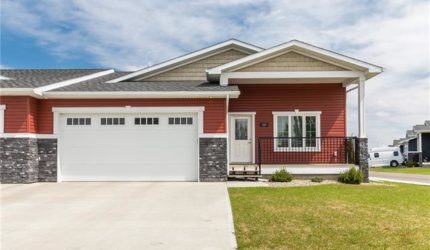 Fairmont Landing: 1/2 duplex style condos (a 40-plus complex).

The Meadows is an upscale 50+ neighborhood that offers high-end villas near the city's edge.

Residents at the Gardens can enjoy meals as part of the amenities.
There are also a few adult condos in Lethbridge that are ½ duplex style in South, West and North Lethbridge. Most of these have attached garages and the prices can vary from low 200's to over 400K. They are usually bungalows with large window wells and with main floor laundry. The condo fees will not cover utilities as the units have their own hot water tanks and furnaces but should cover maintenance of the lawns.
If you are looking to buy an adult condo or senior condo in Lethbridge, call Justin at 403-894-6937 or Jen at-403-795-8783 and we can let you know what is available. Or email us at team@viewlethbridge.com and ask for a list of Lethbridge adult/senior condo
Team Viewlethbridge.com sells a lot of condos. If you are looking to sell your adult condo and would like an evaluation, check out this page.