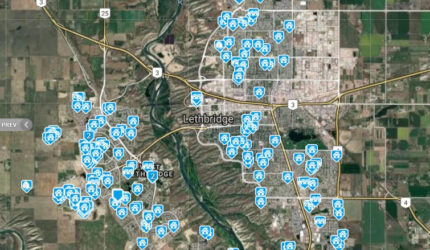 No other team or REALTOR® can give your home more exposure than the team at VIEWLETHBRIDGE.com The most effective way to market your home is to get as many people through your house as possible. Whether that is in person, or online. Our team has one of the best Internet and social media presences in Lethbridge. Whether you are selling to move to another home in southern Alberta, or to a different part of the country, we can help. We will give you advice to get your home in the best shape possible and work with you every step of the way. We specialize in selling Lethbridge real estate, (and we have the results and happy clients to prove it). Give us a shout, we're happy to tell you how we can make your home sale a smooth journey for you. Take a look at our free Lethbridge Home Evaluation form to get started….
Our main task is to get as many viewings as possible through your home. We achieve this through excellent photos, virtual tours, inviting and professional descriptions, extensive Internet coverage, and more. The majority of buyers start their search on the Internet, and you need a real estate agent(s) with a strong Internet presence.
Responsive: We respond quickly respond to our client's inquiries and needs. Our phones are with us all the time so that WE ALWAYS respond in a timely manner.
Keep you Informed: We keep our clients informed about all comments on their home, from potential buyers and other real estate agents.
Competitive Market Analysis: We will give you a Competitive Market Analysis of homes in your area to help you determine the best price for selling your home. We will give you the data you need from past sales, expired, and current listings. (online home evaluation).
Full-time: We are full-time Real Estate agents and our clients are our focus. We believe it is important to remain accessible to our clients. If we can't answer the phone, we will call you back promptly.
Work with other agents: When you list with us, the entire team of agents at ViewLethbridge.com and LethbridgeRealEstate.com work to sell your home. It is important for us to maintain a positive relationship with all of the agents in the Lethbridge Board so that they are pleased to show our listings.
Staging: It's true. Staging works. Homes we have staged in the past have sold comparably much quicker than non-staged homes. We will give you helpful ideas on how to make your home more appealing, and we will offer you a free consultation with a trained staging consultant. Also, we can plan what to do to get your Lethbridge house ready to list.
Advertising: Your home will be advertised on the MLS® system of the Lethbridge and District Association of REALTORS®. MLS.ca, on www.viewlethbridge.com, and on www.lethbridgehousingmarket.com. We know that the majority of people looking for a home use the Internet, and we will make sure your property is visible there. (We also post on Facebook, Kijiji, INSTAGRAM, and Twitter as well).
Professional Photography: Great photos get your home noticed! Our photographer takes time in your home, and afterward, in editing for some of the best photos you will see for Southern Alberta Real Estate. We also have virtual tours and aerial photography.
Open House: Where appropriate for your needs, we will host an open house to generate additional interest in your property. This is advertised on our websites, on REALTOR.ca, along with signage to bring buyers into your home.
Satisfaction Guaranteed: Our goal is the sale of your home and your complete satisfaction. Your best interests are our focus, and we welcome all of your questions. We want you to be completely satisfied so that you can refer us to your friends and family with confidence. Please check out some of our client testimonials to see what previous clients have said.
Choosing the right agent team to sell your Lethbridge Home.
Text or Call Jen at 403-795-8783
Text or Call Justin at 403-894-6937
Free home evaluation.
Why List with Us? Choosing a Lethbridge real estate agent to list your home.
Our Results
Hire a local brokerage
Getting your home ready to sell
Professional Photography
Relisting your home
What is the Guaranteed Home Sale?
Selling your home during Covid-19
Why you should hire a Real Estate Team
Get to know our Agents