BIG NAME BROKERAGE VS LOCAL (BOUTIQUE) BROKERAGES
Do you need a big name brokerage to sell your home? Can a big name brokerage do a better job of selling your home? What are the benefits of hiring a local boutique brokerage in Lethbridge?
We have all heard of the "big name" firms: ReMax, Century 21, Royal LePage, etc. But are these firms going to do a better job for you than a smaller, locally owned brokerage?
ALIKE IN MANY WAYS
MLS SYSTEM:

No matter what brokerage the REALTOR® is from, he or she should be a member of the local board. When your home is on REALTOR.ca, it can be shown or sold by any licensed REALTOR®, no matter what brokerage they are with. This means that all companies have the same access level to the same properties whether representing a buyer or a seller.
LOCAL RULES:
All brokerages play by the rules of several governing bodies. This include the Lethbridge and District Association of REALTORS® (LDAR), Alberta Real Estate Association (AREA), the Real Estate Council of Alberta (RECA), and the Canadian Real Estate Association (CREA). Many of the systems in place are controlled by the local board. The Lethbridge and District Association of REALTORS® controls our lockboxes, our reporting, and the way in which we show homes.
WHY HIRE A LOCAL AGENCY? REASONS TO USE A LOCALLY OWNED BROKERAGE
BROKERAGES and AGENTS:
When you sign a listing agreement, you are hiring the brokerage and the brokerage is assigning the REALTOR® to do the work. The REALTOR® is the one in charge of marketing or promoting your home and negotiating for you. So you could be hiring one of the biggest brokerages available, but the REALTOR® that you work with may only do a handful of deals per year. For example, a large brokerage in Lethbridge has 55+ Realtors. In 2017 they sold a total of 498 homes. This averages out to only 9 deals per agent. In comparison, our teams' agents listed and sold 112 homes on the MLS in the same period of time, averaging 16 deals per agent.
FLEXIBILITY:
Local brokerages have more flexibility when it comes to selling your property. When it comes to innovative marketing ideas and company policies, a smaller brokerage can get the job done much faster than another brokerage with a head office thousands of miles away. Imagine a ship where there are 55+ equal owners of the ship. They all have to 100% agree on the direction or the ship goes nowhere. With a handful of people at a brokerage, it's easier to maneuver around and get the ship going where you need it to be.
LOCAL VS NATIONAL EMPIRE
Some big named firms can be locally owned. However, a local firm is focused more on the rights of buyers and sellers, as well as promoting the city they are in rather than a national franchise. You are supporting LOCAL BUSINESS when you work with a locally owned brokerage.
WHAT IS BEING PROMOTED?:
A large brokerage is going to focus on promoting the brand and not necessarily the city or area they are in.
WHAT ABOUT THE STATS- DON'T THE BIG BROKERAGES SELL MORE HOMES?
TOTAL NUMBER OF DEALS, VS PER CAPITA DEALS:
Stats can always say different things. A Brokerage with more agents will usually do more deals total than a brokerage with less agents. However, sellers should consider the total number of deals per agent. If we add together the two largest big-name brokerages in town, they would have exactly 100 REALTORS® between them! In 2017, they did a total of 749 deals as the listing REALTORS. Again, that lowers the average number of deals per agent to 7.49 per year as listing agents. Our team would be doing 15 TIMES the number of sales as the average REALTOR® in those two big brokerages.
BUT THE OTHER AGENTS IN THE BROKERAGE WILL SELL THE LISTING?
If an agent is going to help a buyer find a home, they will show them all the homes listed on the MLS. When an agent has their buyer clients' best interest at heart, it won't matter what brokerage the house is listed with. Agents will tend to show homes listed with other agents that return calls promptly and deal with things in a professional manner.
WHO WILL GET ME MORE EXPOSURE?
In the end, a seller is concerned more about how many showings than who is going to sell the property. Thanks to the Internet, any brokerage is going to get equal air time on MLS. What really matters is the total number of showings. Do an Internet search for "Lethbridge Real Estate" Or "Lethbridge REALTOR" and see how many times we pop up! Take a look at the website of the REALTOR® and Brokerage you want to use. Does the site promote solely their services, or are current listings prominently displayed on the site? A website based out of Toronto that gets thousands of visitors a day isn't going to do you any good if it doesn't promote your Lethbridge Home for sale.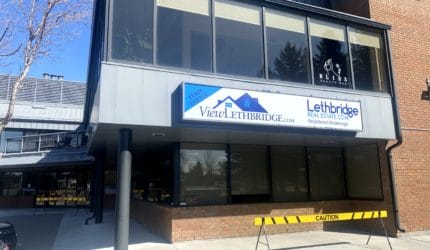 WHO DO I HIRE?
Find an agent or a team that you like. Interview them carefully and check out their knowledge of selling a home. Take a look at some of their current listings to see if they are professionally marketed and presented. Check for REALTOR® Testimonials. Make sure you get an agent that will return all calls promptly and will give you regular updates as to how the marketing of your property is going.