Mobile Parks in Lethbridge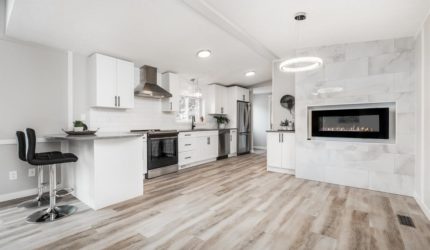 There are four mobile home parks in Lethbridge. Bridge Villa, Parkbridge, Parkview, and the West Side Mobile Park. There is also a park in Coalhurst, and three in Coaldale.
Parkbridge Estates: Lethbridge AB, T1K 7K1 Phone 2927 29 St S, Lethbridge, AB T1K 6S7 403-320-5517. Parkbridge is an adult-only park, (55 years and older), located near Costco on the South Side. In around 2010, you couldn't buy anything here for less than 100,000. Now there are several units available for under $100,000. The monthly lot rent is $585 for all units, (as of 2023) and does not include utilities. 1 small pet is allowed, but there are no fenced yards.
Bridge Villa Estates: 2300 – 13th Street N, Lethbridge AB, T1H 4Y5 Phone (403)320-6333
Bridge villa is on the Northside of town. There is a mixture of older and newer units. The lot rents are about $560-585 (in 2023). There are no age restrictions, but there is an adult-only area in the park. There are 245 units, and residents are allowed to have 1 dog, and 2 indoor cats.
Parkview Estates: 1410 – 43 ST E, Lethbridge AB, T1K 3S5 Phone (403)327-4765
Parkview is on the south side, has no age restrictions, and the lot rent is about $495 (in 2023), but does not include any utilities, garbage or sewer. There are 113 units, 2 pets are allowed per home, and there is a playground at the park.
Westside Trailer Court: 2715 Westside Dr. W, Lethbridge AB, T1J 0N0 Phone (403)381-6711
Lot rent is about $390-$400 a month (2022), which includes water sewer and garbage There are 86 units. Dogs are allowed, but they need to be under 12 inches at the shoulder.
Mobile Parks in Coalhurst & Coaldale
Coalhurst Mobile Home Park: Coalhurst AB, T1J 0N0 Lot rent is about $500. Phone (403)381-3322
Station Grounds Coaldale: Station Grounds Manufactured Housing Community, Coaldale AB, T1M 1A0 Phone (403)345-2100. Rents can range around $440-460 (2022) plus depending on what phase of the park and the size of the lot. This is a newer park, and most of the homes are less than 10 years old. Pets are allowed but need to be approved.
Coaldale: Garden Grove
1712 23 St, Coaldale, AB T1M 1K5,(403) 345-4554, Lot rent is about $415 per month and includes water, sewer, and garbage.
Coaldale: The Seasons: The Seasons is located slightly outside of town. At the Seasons, you generally own your own lot, (but there is still an HOA fee that is necessary for maintenance of the park area.. It is about $75, which is much less than typical lot Rent).
***THE ABOVE INFORMATION IS DEEMED TO BE ACCURATE AT THE TIME OF WRITING, APRIL 2021 BUT SHOULD BE CONFIRMED DIRECTLY WITH THE PARK YOU ARE INTERESTED IN. MOST PARKS RAISE THEIR LOT RENT EACH YEAR BY ABOUT 3%.
If you are interested in buying a mobile home, it is very important that you speak to your bank, or mortgage professional. A mobile home may seem like a less expensive option for some buyers. However, once you factor in the lot rent, you could end up paying more per month than if you had purchased a condo or a small home. Many people buy mobile homes because they enjoy the lifestyle, living on one floor, and the community benefits. It is much more difficult to qualify for the purchase of a $150,000 mobile home than it is to qualify for a $150,000 home.
If you are interested in purchasing a Mobile Home in Lethbridge, or would just like some more information,
Call or Text Jen or on her cell at 403-795-8783 or email her at jen@viewlethbridge.com
We can help you to find mobile homes that are listed on the MLS®, as well as privately listed mobile homes. jen@viewlethbridge.com