Lethbridge's Top Performing Real Estate Team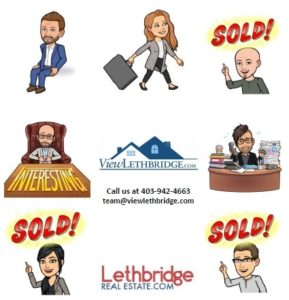 There are quite a few REALTORS® in the Lethbridge Area, including some big names in real estate that have been around for quite a while. Although we are happy when clients know us by name, our focus is teamwork and utilizing our combined resources to sell homes for clients.
When it comes to selling homes in Lethbridge, our ViewLethbridge Team continues to be leaders in the industry. In 2017, 2018, 2019, and 2020,
TeamViewlethbridge.com
sold more Real Estate than any other team or individual registered with the Lethbridge and District associate of REALTORS® (2021 is changing every day but our team is still hard at work). Our marketing strategies push our clients' homes front and centre, plus we have several behind-the-scenes advertising campaigns that ensure our listings are easily visible to active home buyers. We don't really care about the name on the sign in your yard, we just care about making it a SOLD sign.
Justin, Jen, Dave, Joel, Rebecca, Clint, Dan, Durrell, and Nathan put the client first and work together to get real results, (check out our agent profiles)
We are happy to provide you with our detailed stats, just ask!
We are always keeping up with the latest stats. And as 2019 President of the Lethbridge and District Association of REALTORs®, and 2020 past president, Justin is always up on the market. Check out his latest interview with GLOBAL TV.
Check out Jennifer's recent interview on CTV regarding Lethbridge Real Estate during the CoronaVirus.
Text or Call Jen at 403-795-8783
Text or Call Justin at 403-894-6937
Free home evaluation.
Why List with Us? Choosing a Lethbridge real estate agent to list your home.
Our Results
Hire a local brokerage
Getting your home ready to sell
Relisting your home
What is the Guaranteed Home Sale
Selling your home during Covid-19